Impressum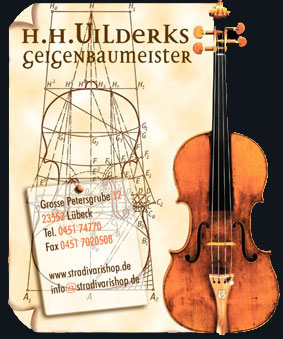 Haat-Hedlef Uilderks
Master Luthier
Sales Tax ID: DE 135016414
Member of the Lübeck and Schwerin Chambers of Commerce
Große Petersgrube 12
D-23552 LübeckTel:0451 74770Fax: 04517020508
Johannesstraße 11
D-19053 SchwerinTel:0385 732096Fax: 04517020508
Liability for links
Our program contains links to third-party websites over whose
content we have no control. Thus we cannot be held accountable
for this content. The operator of the linked sites is solely responsible
for their content. At the time of linking, the sites were examined for
statutory violations and it was determined at that time that the sites
were operating without such violations. Without any concrete evidence of
violations, an on-going control of such linked sites is not feasible.
Should we become aware of violations at any time, we will immediately
remove the link in question.
Copyright
This sites content and works are subject to German copyright laws.
Third-party contributions are identified as such. The reproduction,
editing and dissemination of any content used outside of the
copyright laws requires written permission from Master Violin Builder
H.-H. Uilderks.